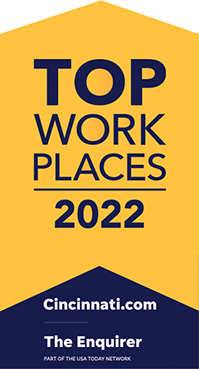 Cincinnati, OH - Verdant Commercial Capital has been named a 2022 Top Workplace in the Greater Cincinnati and Northern Kentucky area by The Enquirer Media. The Top Workplaces list is based solely on employee feedback gathered through a third-party survey administered by employee engagement technology partner Energage, LLC. The anonymous survey uniquely measures 15 culture drivers that are critical to the success of any organization, including alignment, execution, and connection, just to name a few.
"We are honored to be named as a Top Workplace, which is a tribute to our team. As we built Verdant, we knew a key element in our success would be hiring the right people, giving them the tools that they needed to succeed, then letting them do their job," said Mike Rooney, CEO of Verdant Commercial Capital. "Our associates bring a can-do attitude to work every day, which creates rewarding relationships with our vendors, customers, and partners."
Founded less than five years ago, Verdant has grown to nearly 80 employees and has done more than $1 billion in equipment financing and is one of the top 10 independent equipment finance companies in the United States.
"We invest in our employees by giving them opportunities to actively grow and develop in their jobs and as leaders," said Verdant's Senior Vice President of Operations Margaret Irvin. "We are a team-oriented company, and we strive to balance the challenging demand of the work with an energetic, fun, and creative workplace."
"During this very challenging time, Top Workplaces has proven to be a beacon of light for organizations, as well as a sign of resiliency and strong business performance," said Eric Rubino, Energage CEO. "When you give your employees a voice, you come together to navigate challenges and shape your path forward. Top Workplaces draws on real-time insights into what works best for their organization, so they can make informed decisions that have a positive impact on their people and business."
Because Verdant is rapidly growing, opportunities to join our team appear regularly.