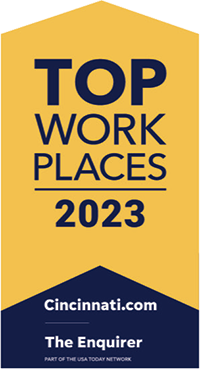 For the second consecutive year, Verdant Commercial Capital has been named a Top Workplace in the Greater Cincinnati and Northern Kentucky area by The Enquirer Media.
The Top Workplaces list is based solely on employee feedback gathered through a third-party survey administered by employee engagement technology partner Energage, LLC. The confidential survey measures 15 culture drivers that are critical to the success of any organization, including alignment, execution, and connection.
"We are honored to be named to the Top Workplaces list again this year," said Mike Rooney, CEO of Verdant Commercial Capital. "The Verdant team is engaged, empowered and bring their best every day, which helps create long-term relationships with our partners, vendors, and customers."
Founded in 2017, Verdant is the sixth largest independent equipment finance company in the United States, with nearly $2 billion in originations since inception. The company has already grown to 84 employees and has offices in six cities.
"Verdant is very team-oriented and in a competitive industry, we focus on balancing the work with an energetic, fun and creative workplace," said Margaret Irvin, Verdant's Senior Vice President of Operations. "As Verdant continues to grow, we look for more opportunities to help the team grow and develop in their jobs and in the industry."
The Top Workplaces survey partner puts this award in perspective. "Earning a Top Workplaces award is a badge of honor for companies, especially because it comes authentically from their employees," said Eric Rubino, Energage CEO. "That's something to be proud of. In today's market, leaders must ensure they're allowing employees to have a voice and be heard. That's paramount. Top Workplaces do this, and it pays dividends."
Because Verdant is rapidly growing, opportunities to join our team appear regularly.